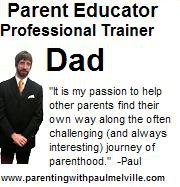 I'm a parent educator, a professional trainer, and a father. These days I'm pretty busy as Program Director at both the Cape Cod and Nantucket Family Resource Centers. For more about these exciting projects, please check out www.CapeCodFamilyResourceCenter.org or www.familycontinuity.org (any views expressed here are mine and not necessarily those of my employer).



If you'd like to know more about me or my work and what I can do for parents or staff at your organization, please be in touch: paul@parentingwithpaulmelville.com

Conferences

This is a short list of books that I particularly like and/or rely on professionally. If you have questions about any of them or want a more up-to-date recommendation, please feel free to ask.


Visions of Community (early March)
I'm sorry to say I've never been to this conference. I've been invited several times and I only hear great things, but it's always on a Saturday and often the Saturday that we're celebrating my son's birthday. I will get there one of these years.
The New England Fathering Conference (mid-March)
This two-and-a-half day event is fantastic! You can go for one, two, or all three days. I've been a regular attendee since 2009, I've presented on numerous topics over the years, and I'm honored to be part of the planning committee. The location of this one moves around New England, so I've been to it in Connecticut, Rhode Island, and Maine. The conference is scheduled to take place in Massachusetts in both 2018 and 2019.
The Massachusetts Early Intervention Consortium Conference (early May)
This two day event is always packed with people! Whether you work in Early Intervention, do other work with families who have young children, or are raising your own, this conference has something for you. I've been a regular attendee since 2008 and I've presented numerous workshops here since 2013. This conference takes place in central Massachusetts (Framingham).
IDEA Leadership Conference (mid-summer)
This one is intense! The federal government's Office of Special Education Programs (OSEP) brings together state leaders, technical assistance providers, and OSEP staff from around the country to connect with each other and to learn about evidence-based practices that will support their ability to improve results for infants, toddlers, children and youth with disabilities and their families. Typical attendees include: Part B State Directors, Part C Coordinators, Section 619 Coordinators, Parent Center leaders, State Advisory Panel members, and State Interagency Coordinating Council (SICC) members. I attended in 2012 both as co-chair of Massachusetts' SICC and as part of a panel reporting on our experience implementing a pilot program. This conference takes place near the Capitol Building in Washington, DC.
A View from All Sides (October/November)
This event is a wonderful conference for parent educators and others who work with with families! I've been a regular attendee for almost as long as I can remember and I often present a workshop or facilitate a panel discussion. This conference takes place in central Massachusetts (Marlboro).